Supporting communities, inspiring future leaders.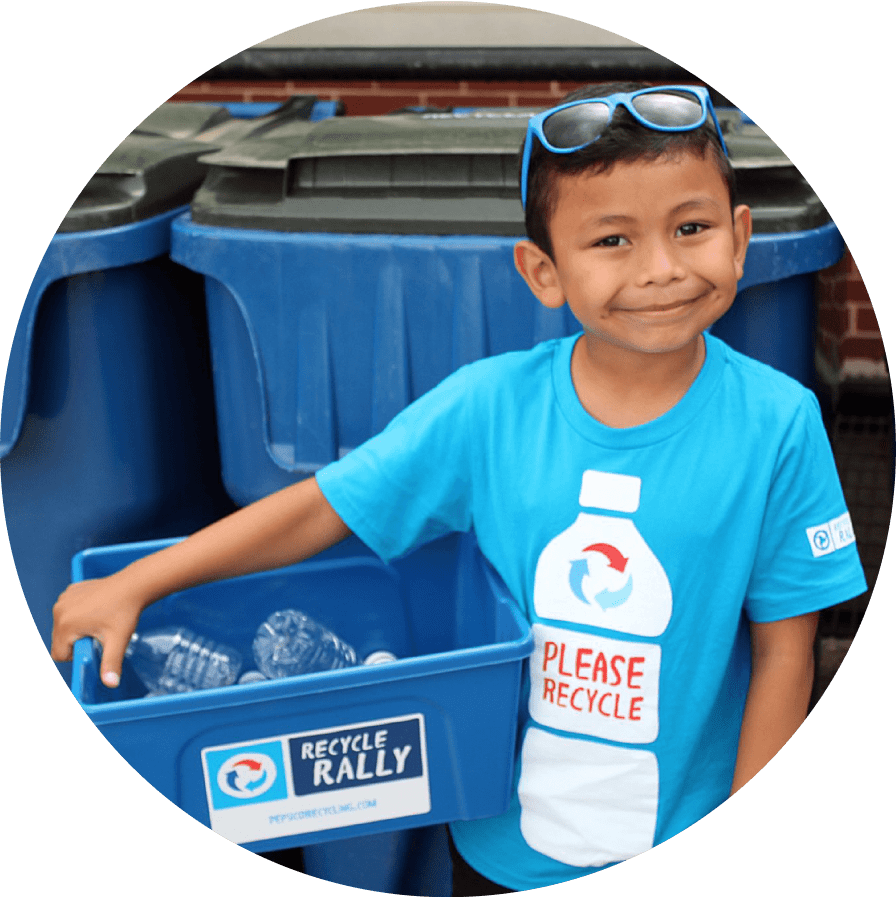 Today's Students are Tomorrow's Leaders
Recycle Rally is a free recycling program for K-12 schools throughout the U.S. The program is designed to help students become lifelong recyclers by equipping, educating, and inspiring them to get directly involved with recycling.
650M
Beverage Containers Recycled
$4M+
Awarded in Prizes & Rewards
200+
Free Educational Tools & Resources
Goals
Driving Progress Towards pep+
The supply of rPET (recycled PET plastic) used in beverage bottles is currently lower than demand across multiple industries, and we need to increase the supply of this material to incorporate it back into PepsiCo beverage bottles. Recycle Rally is an effort to engage school communities in the collection of recyclable materials to help feed this supply.
Equally important, the program educates about recycling and empowers students to play key roles. K-12 school-aged children are tomorrow's leaders, therefore communicating the importance of recycling and implications of waste will help ensure a sustainable future for us all.

CUSTOMIZATION
How We Can Partner with Customers
Customer partnership on Recycle Rally has never been done before, but we have identified a few opportunities to engage customers in the program moving forward.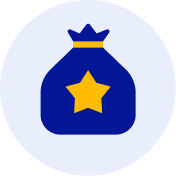 FUNDING
Retailers can show they care about making their communities more sustainable by helping to fund more incentives, recycling bins and supplies for local schools that recycle.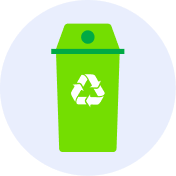 RECYCLING INFRASTRUCTURE
Retailers may be able to add to their store's foot traffic by collaborating with local schools to share or fund recycling infrastructure, which in some cases may enable schools to participate in Recycle Rally when they couldn't before.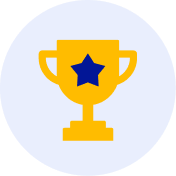 COMPETITION
Foodservice providers or larger retailers may strengthen relationships with schools by co-branding a contest for a group of schools they service. Customers can help set judging criteria and be involved in the judging process.
KEY INFO
The PBNA sustainability team currently funds program overhead, promotion, educational resources, fulfillment, and incentives such as recycling supplies, bins, gift cards, and merchandise. Sales teams and customers are not required to pay anything for local schools to participate in the program.
As schools log recycling and earn points in their account, they can save points and redeem them for recycling supplies and rewards.
If a customer would like to enhance the Recycle Rally program for a select school or group of schools, or co-brand a contest, they will need to pay. The cost will be based on the level of engagement.
This program targets K-12 schools (administrators, teachers, other school staff, and students). Usually the school's green team or recycling team will adopt this program.
The PBNA Customers who have expressed the most interest in this program are foodservice providers and municipalities that want to make their school districts more sustainable.
We have also received interest from retailers who want to build stronger ties with their local communities through the school systems. Some small businesses have helped collect recyclables for Recycle Rally schools to help them earn rewards.
Schools can participate and earn rewards any time of year, but the most popular time to sign up is during back-to-school season. It just takes a few weeks from the time a school applies to when they are accepted into the program and are able to participate.
Any customer can engage local schools in Recycle Rally. If the customer is a K-12 school, they will need a way to transport recyclables to a recycling facility. If not a K-12 school, the customer will need to inquire if local schools are willing to partner.
Each school must also have a program leader, like a science teacher or green team leader, who's over 18 and agrees to operate the program website and engage the school in recycling efforts.
For questions, email us here.